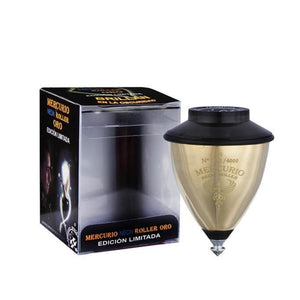 The Mercurio Gold represents the ultimate in design and materials in order to achieve the best performing Spin Top possible. The Mercurio has been forged from Brass.  This Brass not only adds mass to the top design, but it also looks fantastic. The added weight allows longer spinning times, great momentum as well as slowing-down the trick process when compared to lighter plastic models. 
In addition to being made from brass, the Mercurio range also contains luminescent glow in the dark particles in the cap to add an extra dimension to your night time play.
The Mercurio are produced in limited numbers and each model has been hand-numbered. Not only is this an amazing performance top, but very much a collector's item. The Mercurio also comes with a DOUBLE BEARING ROLLER Tip. Even compared to the normal ROLLER tip found in other Trompos Space models.  This double bearing system spins for significantly longer and will facilitate even the most advanced trick sequences.